The Hohensalzburg fortress is one of the most beautiful castles I've ever seen. This famous castle of Salzburg, one of the world's best preserved castles, dominates the entire city from the hill to Hohensalzburg. Built in 1077, the fortress in Salzburg, near the German border of Austria, has survived without being taken into the present, despite the battles it suffered. It has a beautiful view of the city and the magnificent view of the Alps that rises in the back of the 360 degrees. One of the most beautiful castles I've ever seen.
With its 250 length and 150 m wide, it is one of Europe's largest medieval castles, the majestic fortress of Salzburg, the Hohensalzburg, the Festunberg summit, which is a beautiful view of the city. The glory of the Snowy Alps on one level, the lush valleys on the other, and just in front of you are the Salzburger Altstadt and the Salzach River.
Hohensalzburg Castle
It's a great structure in a position where you can see from the top of Salzburg on a dominating hill. Hohensalzburg means ' high Salzburg '. The medieval nature of Hohensalzburg is dating from the 19th century and still active icular.
The castle is actually quite large, and there are many departments. Small shops, cafes, buffets, chapels, museums, dungeons and torture chambers. The most eerie part of the castle is the iron wheels, the torture tools, the handcuffs, the iron railings in the middle ' Torture chamber ' with a closed well.
There is also a puppet museum (Marionette Museum) in the castle, which has a magnificent view of the Alpine mountains in the courtyard. Every showcase in which puppets are exhibited is actually a theater scene. The Residenz Art Gallery is also exhibited in Hohensalzburg Castle, where many famous artists such as Rembrandt, Brueghel and Rubens are found.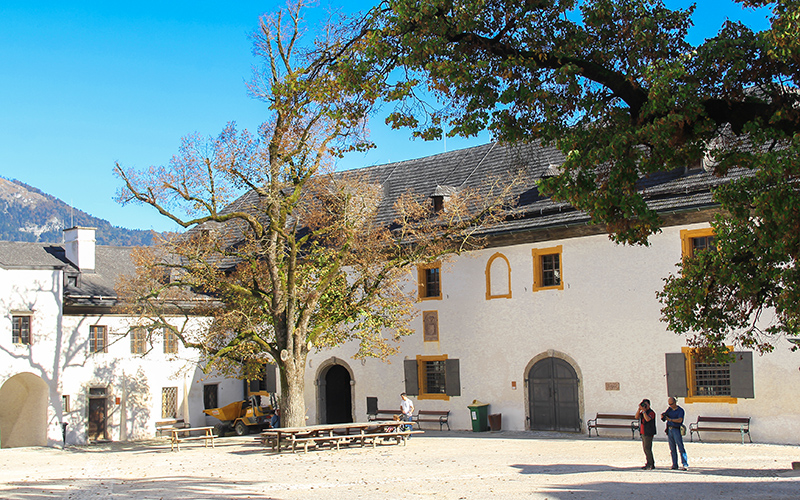 You can visit the museum between 9:30 and 17.00. When there are more than ten visitors, a free tour with the guide is being made. You need to book at least 1-2 weeks in advance. The entrance fee for the castle, including the icular of the fortress, holds €12 if you take it to include the Fortress Museum, the Rainer Regimentmuseum and the Marionette Museum. For children, half of it is taken. If you bought the Salzburgcard, the entry is free.
Keep in mind that the Salzburg Hohensalzburg fortress, reminiscent of a film set, is a great place. Take at least two hours to travel the castle, even more. Enjoy spectacular views of the entire city and the splendor of the Alpine Mountains.